How to avoid a pop-up penalty from Google on your website
Here's what you need to know about Google's pop-up penalty and why it's super important for your business.
Did you know that 61% of users are unlikely to return to a mobile site they had trouble accessing and 40% visit a competitor's site instead? (Source)
If that doesn't make you want to want to run and make sure your website is mobile friendly then I don't know what will.
The fact of the matter is if your website isn't mobile friendly then you are losing potential customers or clients which means you are losing revenue.
More people are using smartphones and more people are using their phones to browse websites. Period.
These percentages are only expected to increase so now is the time to make sure you have a mobile friendly website if you haven't already.
In addition to not only being mobile friendly, Google recently started penalizing websites that have pop-ups on mobile devices.
Now this new pop-up penalty doesn't mean all pop-ups are discouraged, and there has been a lot of misconception out there about what this new rule exactly means and what gets penalized.
I wanted to explain the details of this new pop-up penalty rule so you can know definitely what you should do about Google's new pop-up rule.
What is the pop-up penalty?
First, let's cover what Google states the pop-up penalty is.
Here is the info from Google:
Pages that show intrusive interstitials provide a poorer experience to users than other pages where content is immediately accessible. This can be problematic on mobile devices where screens are often smaller.
To improve the mobile search experience, after January 10, 2017, pages where content is not easily accessible to a user on the transition from the mobile search results may not rank as highly.
What do they mean by "intrusive interstitials?"
Intrusive interstitials are basically a pop-up ads that block your view of the website that makes it less accessible. Here's an example from Google: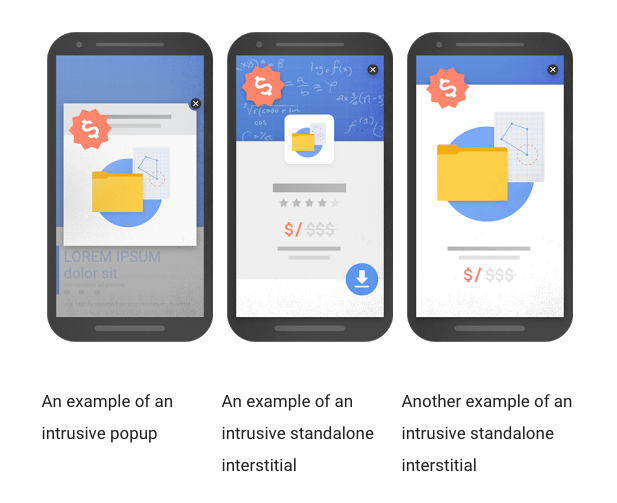 Do you notice how the pop-up ads themselves are covering up the content that's on the website? You can't see anything!
Google knows that people don't like that. People want to go to a website and be able to immediately see the content that they are looking for, not a pop-up ad. Especially since you are viewing a website on a much smaller screen.
The new pop-up penalty does not mean that your page would not show up in search results at all, it's just that it will most likely be ranked lower than other pages with similar content that don't have a pop-up.
Example of what you can do
There are examples of pop-ups that are the exception to Google's new penalty. Here's an example they shared: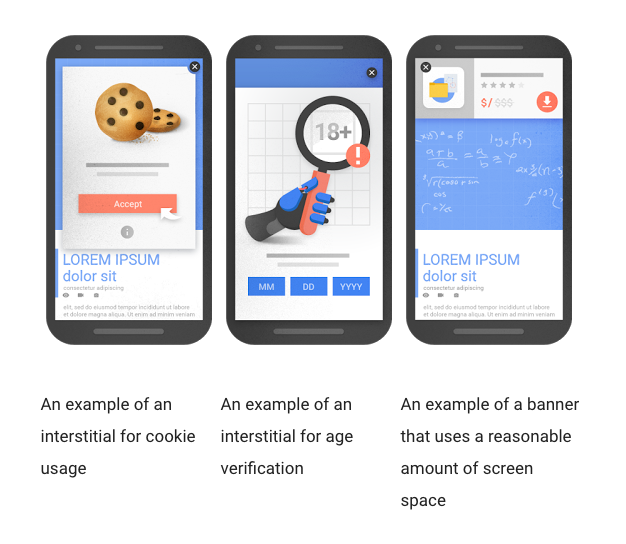 In layman's terms, acceptable pop-ups include:
Cookie usage or age verification
Login dialogs
Banners that are easily dismissible and only take up a small portion of screen space.
Related post: How to pick the right website platform for your side hustle
Next steps and what you should do
Your first step should be to immediately disable any pop-ups on any mobile devices.
You should also check to see if your website passes Google's mobile friendly test by visiting this link.
This tool allows you to test how easily a visitor can use your page on a mobile device. It's super easy and free to use!
An important reminder is that this rule (for now) is only for mobile devices, meaning you can still have pop-ups on your website that show on desktop devices.
Many people assumed that any type of pop-up would be banned and that is not the case.
Google implemented this new pop-up penalty to not punish businesses, but to continuously make the user experience better. If 61% of people are going to leave your website after not being able to access the content anyways, this really is the best decision for Google and for your business, to penalize distracting pop-ups.
Free Daily Intentions Planning Sheet